WALK ABOUT BIDEFORD
KINGSLEY ROAD
Burton Art Gallery & Museum
Cafe du Parc
Elliotts Garage
Morrison Supermarket
Victoria Park
Bideford Tourist Information Centre
THE PILL
HB Automate
THE QUAY
Bideford Arts Centre
Lundy Office
Bideford Post Office
Bideford Rowing Club
Quayside Cafe
Holiday Cottages
Kings Arms
Freebird Cycle & Skate
Billy Buns Bakery
Bideford Cars
Mr. Ho Chinese
The Spice
Chic-o-land
HSBC Bank
CHINGSWELL ST
Bideford Bowling Club
Cut Above
Sagor Indian Rest
THE STRAND
Bideford Football Club
ROPE WALK
Bideford Pottery
BRIDGELAND ST
Quigleys
Webbers
Prince of India
Bond Oxborough Philips
Kivells
Designers
FR Way Furniture
Kevin Bright
Lavington Church
Citizens Advice Bureau
Brewer Harding & Rowe
Hughs Optician
NORTH ROAD
Sacred Heart Church
QUEEN STREET
White Hart Inn
Heard Bros.
Quay Cars
COOPER STREET
Crabbydicks
Mariners Restaurant
Karma
Cooper Gallery
Biddys
Chillies Takeaway
Number Six Taxi
MILL STREET
Lindseys
Tayor Bros Shoes
Heavitree Arms
Mill Street Bakery
Getset Design
Bideford Antiques
Thomson
Blanchards
Bill Smith
Coopers Jewellery
Country Cottage Bakery
Cleverdon's Cafe
Fusion Designer Jewellery
Foto Quick
Bideford Baptist Church
Thomas & Son
Trio Interiors
Pizza Pronto
Trawlers Fish n Chips
Bideford Cafe
Bideford Health Foods
Hiron Butchers
La Maison
Patts Fruit Stores
Lacey's Ale & Cider
ALLHALLAND ST
Taj Mahal Takeaway
Baths Photographic
Purrfect Pets
SPRA
Ashore
Harts
Roosters Restaurant
St. Mary's Church
BRIDGE STREET
Bideford Town Hall
Lacey's
Bideford Library
Torridge District Council
NEW ROAD
Bideford Police Station
Tantons Hotel
Bideford is both a busy working port and thriving market town with an eclectic mix of shops, services and eateries. The High Street was also home to Bideford's very own department store, Chopes, which has served the Bideford community for over 100 years and was founded back in 1898 closed its doors in 2011. Farm & Cottage Holidays located on the Quay is a family run and owned business that has been marketing holiday cottages throughout North Devon and the whole of the South West since 1979. At the top of the town is Bideford Pannier Market which was built in 1884. The Market Hall and Butchers Row Shops were refurbished in 1993. By far the best way to explore is on foot and there are plenty of places to park on the quayside, in the town or across Bideford's Long Bridge at East' the Water. The 17th century Royal Hotel stands at the end of Bideford Bridge and it was here that Sir Charles Kingsley wrote much of his novel Westward Ho! A visit to Burton Art Gallery & Museum or Bideford Library will give you an idea about the history of the Bideford area, its famous sons and ancient bridge. Throughout the year Bideford Quay plays host to a variety of colourful events which raise money for local charities. In the summertime crowds gather for the Bideford Regatta and 2008 saw the welcome return of the Bideford Water Festival which was last held on a sunny Bank Holiday in 2005. Annual events are often spectacularly enhanced by lively displays from the RNLI, local majorettes, Morris dancers, brass and massed pipe bands. On August Bank Holiday weekend Victoria Park becomes the meeting point for nearly 300 brightly adorned Mini cars which gather from far and near for the North Devon Mini Registers' Legendary Grand Tour in aid of the Children's Hospice. The summer season draws to a close in September with Bideford Carnival when thousands of people come out to watch the procession as it winds its way through the narrow streets. Bideford's festive season begins in November when the town's Christmas lights are switched on. In 2008 there was a mini parade lead by a team of four reindeer, street entertainers, stalls, farmers' market, fairground rides plus a visit from a giant robot called Titan. Bideford's Christmas Cracker was organised by Bideford Rotary Club. The year comes to a close when thousands of revellers gather in fancy dress for Bideford's famous New Year Celebrations.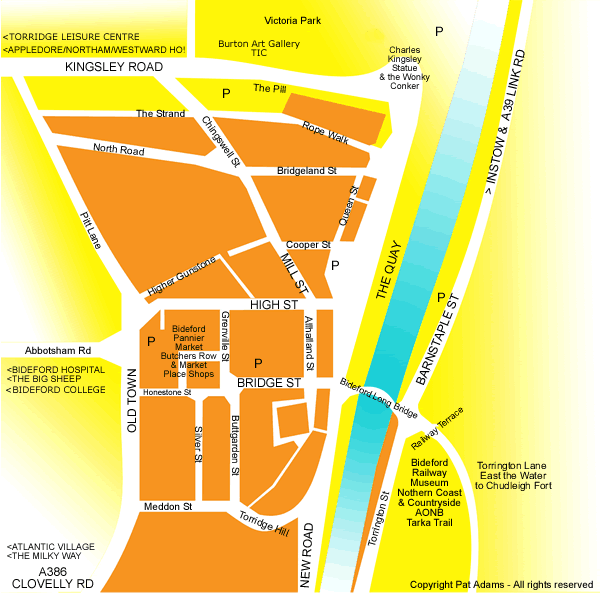 BIDEFORD STREET LIFE
North Devon Focus on Bideford Town Centre Shopping & Services - This is a free service for Bideford Traders. Contact us if you would like us to add/remove/update a business on the Bideford Illustrated Street Map
This is an illustrated map only and is not to scale. A "Bideford Town Guide" is available from the Tourist Information Centre
TOP OF THE TOWN
HIGH STREET
Walter Henry's Bookshop
Banks Coffee Shop
Sounds Interesting
New Look
J & A Cameras
M&Co
Bideford Cobblers
Lloyds TSB
Boots
NatWest Bank
GRENVILLE STREET
Glaze Craze
Phansit's Kitchen
MARKET PLACE
Bideford Pannier Market
Market Place Shops
The Pine Centre
Butchers Row Shops
Old Bridge Antiques
Joiners Arms
Praxis Gallery Cafe
HONESTONE ST
BUTTGARDEN ST
SILVER ST
Portobello Inn
MEDDON ST
OLD TOWN
Bideford Fire Station
EAST THE WATER
Royal Hotel
BARNSTAPLE ST
Torridge Auctions
Brunswick Wharf
RAILWAY TERRACE
Bideford Railway Museum
Tarka Trail
TORRINGTON LANE
Chudleigh Fort
TORRINGTON ST
Blacksmiths Arms
Kirkwood Tyres
Bideford Cycle Hire
Swan Inn