NORTH DEVON FOCUS ARCHIVE- The photographs included on this site are by Pat Adams with contributions from Brett D. Adams and Brett Adams using both standard and digital camera equipment. Images using standard camera equipment are stored as prints with digital versions on Cd Rom. The North Devon Focus photographic chronicle started in 2002 when the Kings Troop came to Bideford on holiday. I was given a Minolta to capture this very special occasion and one of the highlights of the week was "shooting the horses" as they galloped towards me on Westward Ho! beach.
We changed over to digital in 2004 and have built up a library of photographs for this area nature and wildlife through the years and our photographs have been used in brochures, on the web, in magazines, educational books and newspaper features both here and abroad. As volunteer photographers we played a small part in the English Heritage's Images of England Project which aimed to create a "point in time" record of the 370,000 listed buildings in England covering every town and village in the land. The project started before the digital revolution, traditional film was used to capture these unique buildings then processed for use on the website. To find out more visit www.imagesofengland.org.uk (now lmalgamated into www.historicengland.org.uk)
The North Devon Focus web site was developed by Pat Adams who has lived in North Devon for over thirty-five years. In the past she has worked freelance on established local business and tourism based publications including the Handy Pages, Holiday Gazette and co-ordinated the advertising sales and publication of North Devon's No.1 Annual Holiday Magazine, the "North Devon Scene" from 1989 to 2005. This web site is non-profit making and self-funded.
The library of photos include towns and villages, a chronicle of seasonal events, nature and wildlife. capturing the changing seasons in North Devon from the first snowdrop in February, the ladybird that heralds the first day of Spring, the return of the house martins in April, the bluebells in May and so on, you get the picture!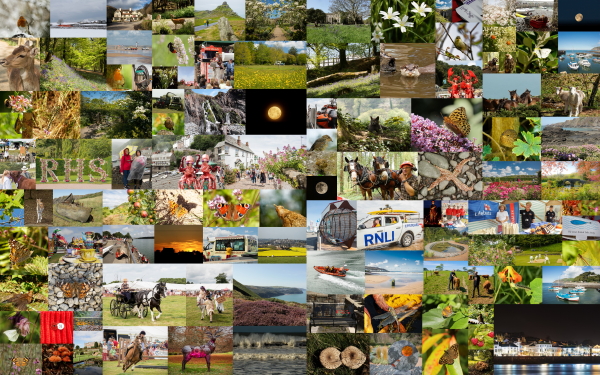 You can view up to date posts and seasonal photos on our social media accounts.
Join us on the
North Devon Focus Blog - Facebook - Flickr - Instagram - YouTube
---
Copyright: Please see our Terms and Conditions
---